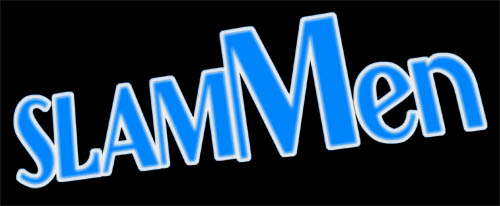 ---

Downloadable Videos-
HD videos of exclusive matches between some of the best Indy wrestlers around!

Use the CCBill link buttons to purchase videos for instant download.
You'll have 48 hours from the time that your information is sent to download each match you buy.


---

Purchase through Paypal using the appropriate button and within 24 hours you'll receive your Username and Password from us.
Paypal purchases are not instant access!
Sorry, no refunds can be given after purchase has been completed, so click with care!
Please be aware that these downloads run well over 100MBs in size, so they're not recommended for those with dial-up connections!

---

Want to purchase by money order or you're not able to download large files?
Please check out our FAQ page!!

---

Download doesn't play quite right?
Please check out our FAQ page!!

---

---

New Videos-12/29/2010!!






SlamMen 17: Scotty Mac vs. Titan David vs. Goliath? Not exactly.
Big and powerful vs. small and scrappy is a more apt description for this contest.

Early on, Titan shows his strength through tosses, shoulder blocks, and knees to the guts. Despite Scotty Mac's attempts to fight back with punches, kicks, and other stick and move tactics, a Backbreaker by Titan puts the seven footer in command.

Titan extends his dominance with Bearhugs, stomps, chokes, and slams into the corners. Nevertheless, Scotty Mac's shows a ton of heart and fights back using forearms, Dropkicks, and Clotheslines to topple the big Titan.
Are Scotty Mac's efforts in vain? Watch this match and find out who is Chokeslammed for a decisive pin.

Lower Quality Sample to Preview the Action!


9+ min. 292MBs WMV Format, 1280 x 720

---

$10 through Paypal




SlamMen 16: Joey Knight vs. Sucio Referee Scotty Mac is the official for this one on one contest.
After Knight evades Sucio in the first two minutes, the two wrestlers lock up and the match begins. Sucio controls the action for with arm wringers, Headlocks, and a Magistral Cradle for a two count. Knight then rakes Sucio's eyes and seizes control of the match with chokes, double axe handles, kicks, stomps, and Camel Clutch to wear down the young Sucio.

A double Clothesline puts both men down…and puts the match up for grabs. Sucio takes advantage with stomps, and elbow drop and a forearm smash for two. One wrestler finishes this contest with double knees to the chest from the second rope into a pin fall for the win.

Lower Quality Sample to Preview the Action!


10+ min. 309MBs WMV Format, 1280 x 720

---

$10 through Paypal




SlamMen 15: Joey Machete vs. Sinn Bodhi Referee Chris Gray has the unenviable task of referee as he officiates a one-fall match up with two of pro wrestling's most unique characters.

Sinn takes the early advantage with Headlocks, shoulders to the guts, even a bite to the butt which annoys and frustrates Machete. After going to the floor, Machete uses a Hotshot to change the tide.

From there, Machete bends the rules with stomps, chokes, Headlocks, Camel Clutches, and stomps prompting the referee's warning on a few occasions. Later, Sinn mounts a comeback with Clotheslines and forearms which knocks Machete to the canvas.
A Centon butt splash wins the contest, prompting a celebration from the elated victor.

Lower Quality Sample to Preview the Action!


9+ min. 285MBs WMV Format, 1280 x 720

---

$10 through Paypal




SlamMen 14: Chris Gray vs. Shawn Spears Referee Joey knight referees this contest of two evenly matched wrestlers.

For the first few minutes, both wrestlers use back and forth chain wrestling to feel each other out.
After bailing to the outside, Spears re-enters the ring and the back and forth wrestling continues with Dropkicks, Hiptosses, and Armbars.

After Spears takes brief control with a Hotshot and a Hangman's Neckbreaker, the match returns to a back and forth manner until a questionable rollup with the tights secures a tainted win for one wrestler.

Lower Quality Sample to Preview the Action!


12+ min. 378MBs WMV Format, 1280 x 720

---

$10 through Paypal




SlamMen 13: Caleb Konley vs. Shawn Murphy Speed versus power is the theme for this very competitive one-on-one match up.

Konley's uses arm wringers, kicks, and Dropkicks to control the early moments of this match-up. After a brief powder, Murphy takes control with clubbing forearms, elbows, and a slam for a two count.

The bout becomes a back and forth battle before one wrestler nails a devastating Tornado DDT for the win.

Lower Quality Sample to Preview the Action!


9+ min. 291MBs WMV Format, 1280 x 720

---

$10 through Paypal




SlamMen 12: Sinn Bodhi vs. Titan Just in case you've never seen Titan--he's huge. As in 7-foot, scary huge. And just in case you've never seen Sinn Bodhi: he's just plain scary. He's also got nerves of steel. Get this: Sinn's in the ring with a guy that looks like he could benchpress a car and he decides to taunt the giant by calling him a 7-foot fruitcake! You've got to respect that.

Sinn's shots to the face initially only anger Titan, who flattens Bodhi with a big boot before slingshotting him out of the corner. Sinn's headbutts don't do much damage either, hurting himself more than his opponent. Titan follows up with a boot choke, a huge clothesline, and a Sidewalk Slam that shakes the ring. Bodhi finally manages to stagger his enormous adversary with a series of lowkicks before locking in a very strategic Sleeperhold, followed by a Cobra Clutch. Titan is down for a minute, but Sinn finds out soon enough that it's hard to keep a 7-footer on the mat. Titan knocks down the bizarre grappler with two consecutive shoulderblocks and almost manages to Powerbomb him ("I can see my house from here!"). Showing great resourcefulness, Sinn manages to counter the potentially match-ending maneuver.
In the end, things can go either way. Will Sinn Bodhi find a way to stun the giant long enough to earn a three-count, or will the brute force of Titan prove too much for him? See for yourself!

Lower Quality Sample to Preview the Action!


12+ min. 379MBs WMV Format, 1280 x 720

---

$10 through Paypal




SlamMen 11: Jimmy Parker vs. Lumbee Warrior At first the Lumbian Warrior seems to have a hard time getting things going but maybe he was just playing possum because soon he has Jimmy in trouble. After regrouping on the outside, Jimmy gets things back where he wants them by working over Lumbee's leg. It's hard to win a match when you only have one good leg to stand on.
Elbow drops, one legged crab, stomps, stepover toeholds and of course illegal use of the ring apron and ring ropes gain Jim the advantage. Lumbee tries to counter moves a couple of times but suffers for his troubles. A nice long Figure Four almost makes Lumbee tap out but he manages to reverse it and mount a comeback.

A couple of chops later though and the big guy throws a clothesline that turns Lumbee inside out. More punishment and then a Canadian Destroyer to end the match.
Does Jimmy Parker remain dominant or was the Lumbian Warrior able to overcome the odds?

Lower Quality Sample to Preview the Action!


12 min. 362MBs WMV Format, 1280 x 720

---

$10 through Paypal




SlamMen 10: Chris Gray vs. Stiro This match features plenty of innovative aerial assaults mixed in with lots of arm work. Chris Gray and Stiro target each other's wings while attempting to wear each other down in this one-fall matchup. Early on, the two trade Full Nelsons, armbars, Hammerlocks and Headscissors, each coming up with quick and creative ways of escaping and reversing the holds.

Gray and Stiro throw together quick combinations to take down and neutralize each other, but neither man is able to get a pin or submission. Stiro wears down Gray with a pair of Surfboard holds, but Gray battle back with a forearm smash that drops Stiro to the mat and follows with a grinding Headlock.

Takedowns, leg drops and shoulder blocks ensue in this back-and-forth battle, with neither man able to get more than a one-count. Just after on wrestler comes close with a two-count, the two lock up in a test of strength, and a quick rollover takedown stuns one grappler long enough for the referee to slap the mat three times.

Lower Quality Sample to Preview the Action!


10 min. 298MBs WMV Format, 1280 x 720

---

$10 through Paypal




SlamMen 9: Chris Gray vs. Ryan O'Reilly Having a little fun at the beginning of this match, each wrestler does his warm up rolls. When Chris does a cartwheel, Ryan declares him the winner of that little fun bit.
Once the wrestling starts, you feel as though you are watching a wrestling clinic as both wrestlers are well versed in counters and reversals of all sorts. Arms are bent in ways that they shouldn't be but neither man is willing to submit. Ryan has a definite size advantage but Chris really knows his way around the ring and holds his own. All sorts of arm bars and wringers, Waistlocks, Headscissors, Headlocks and more are on display in this match.

A big shoulderblock gains some momentum for Ryan and he takes full advantage really putting Chris in some pain. Ryan works Chris' arm over until you start to feel sorry for him and then goes for some pin attempts. Chris has heart though and keeps kicking out. A Jawbreaker turns the tide and it's Chris' turn to dish out the pain.
Can he keep it going and get the pin or does Ryan make his own comeback and emerge the winner?

Lower Quality Sample to Preview the Action!


11 min. 340MBs WMV Format, 1280 x 720

---

$10 through Paypal




SlamMen 8: Caleb Konley vs. Shawn Spears This is the first time these two have met in the ring and they lockup strong and fierce. Shawn seems a little surprised by the quickness of Caleb and soon resorts to some less than legal tactics such as hairpulling and using the turnbuckles.
Nice Armdrags from Caleb keep Shawn grounded so he again goes to the illegal side. An over the knee Backbreaker and Shawn starts working over the youngster's back.

Choking on the ropes keeps the advantage and wears Caleb down Belly to back Suplex, stomps and headbutts to the gut and a Chinlock further the punishment. Caleb tries to make a comeback but Shawn hits a dropkick to keep that from happening and goes right back to work on the back. A one legged crab almost ends this one but Caleb works his way to the ropes
He mounts a comeback with tackles, an Atomic Drop and a scissors kick. A Neckbreaker to the knee ends this one but in whose favor?

Lower Quality Sample to Preview the Action!


12+ min. 383MBs WMV Format, 1280 x 720

---

$10 through Paypal




SlamMen 7: Ben Dejo vs. Danny Demanto Quickness and speed vs size and strength.
Some nice counters and reversals in the beginning as Danny and Ben try to gain the advantage over each other. Danny seems to find the Mexican amusing until Ben keeps getting the upper hand.

The big guy gets taken off his feet by Headscissors and a cool version of a crossbody. When Danny gets his momentum going though it's pain for Ben. Stomps, clotheslines that almost take the head off, standing on Ben's hair and more. A missed Senton splash off the second rope gives Ben a second chance.

More Headscissors and a Tornado DDT do not keep the bigger man down for the 3 and when Ben Dejo goes to the ropes for a high crossbody, he gets caught. One big move later and it's all over for one wrestler.

Lower Quality Sample to Preview the Action!


12+ min. 382MBs WMV Format, 1280 x 720

---

$10 through Paypal




SlamMen 6: Shawn Murphy vs. Sucio David and Goliath is an apt description for this one fall contest featuring the speed of Sucio vs. the power and force of Shawn Murphy. After the ref intros both competitors, Sucio finds Murphy to be a solid brick wall after he absorbs a series of hard shoulderblocks from Murphy. After a flurry from Sucio, Murphy blasts him with a hard shoulderblock sending Sucio sprawling into the ropes. From there, Murphy uses brute force and dominates Sucio for most of the contest with bodyslams, kneedrops, clotheslines, forearm smashes, chokes, bearhugs, chinlocks, and other legal and illegal maneuvers.

After the ref is hit with a splash in the corner, Sucio finds his second wind and nails a devastating DDT on Murphy. However his efforts only land him a two count.
After a brief exchange, Murphy nails Sucio with a huge Butt Bomb and rolls into a seated full nelson--will it be enough for the victory?

Lower Quality Sample to Preview the Action!


12+ min. 387MBs WMV Format, 1280 x 720

---

$10 through Paypal




SlamMen 5: Brian Cage vs. Joey Knight Angel Williams is the referee for this technical (but by no means staid) one fall men's match.
The mercurial Joey Knight takes on the powerful Brian Cage in a contest that runs the gamut in terms of the tactics used. The impish Joey holds up the proceedings a little, considering the possibility of Angel having a thing for him, but the action kicks off quickly enough. Back and forth chain wrestling resolves itself with Brian's strength giving him the upper hand as he puts Joey through the wringer with some shoulder-wrenching armbars and throat-constricting neck scissors.

However, a Joey-engineered meeting between Brian's throat and the ring rope reverses the dynamic, giving the canny Knight an opening to work on his opponent's back and neck with a mix of underhand moves and above-the-board roughhousing. Camel clutches, headbutts, uppercuts, chokes and a lot more besides take their toll on Brian as Joey uses the ring itself to full advantage. The outcome is hard to call right until the end where a dizzying neck-snapping finisher gives one wrestler a hard-fought victory. Fans of men's matches and an entertaining mashup of technical wrestling and dirty fighting will love this one.
As a bonus, you get Joey's continuous in-ring antics as his pained (yet comical) reactions to punishment even bring a smile to Angel's face.

Lower Quality Sample to Preview the Action!


12+ min. 374MBs WMV Format, 1280 x 720

---

$10 through Paypal




SlamMen 4: Shawn Spears vs. Sugar Dunkerton Something about Sugar Dunkerton's retro style from his fully picked out hair down to his red Chuck Taylor's seems to get under the skin of Shawn Spears from the get go. Shawn controls the early action with powerful headlocks, grinding Sugar down and keeping him under control with gratuitous hair pulling. Dunkerton finally unloads on Spears with armwringers and embarrasses Shawn using his own forearm to deliver pumphandle low blows to his 'sweets'. Sugar's best offense comes from just under that wild hair as he delivers devastating headbutts every way he can.

Shawn takes Sugar's best head shots from straight up noggin to noggin, running spears to the sternum or diving headbutts to the chest. Spears rallies and delivers a beating before hitting Sugar with a slingshot splash off the ring apron that nearly gets him the pin.

The action goes back and forth as the pair continue their thunderous battle. The match could go either way until a missed superkick is countered into a head-busting face slam that puts one wrestler down for the three count.

Lower Quality Sample to Preview the Action!


11+ min. 344MBs WMV Format, 1280 x 720

---

$10 through Paypal




SlamMen 3: Caleb Konley vs. Jake Manning The opening minutes are a masterful display of tough physical chain wrestling, full of headlocks, shoulder tackles, and hammerlocks as both grapplers fight to sustain some momentum. Back and forth the action goes until Jake kicks things up a notch with some corner work on the youngster. The advantage is short-lived however as the rookie decides to fight fire with fire, countering with a turnbuckle smash and a big knee drop. But suddenly a missed move by Caleb gives Manning the break he's been looking for as he uses chokes, forearms and kicks to wear his opponent down.

Refusing to give in, the kid comes back with a surprise suplex, but Jake counters with an ab stretch that almost spells the end.
After trading hold for hold and several near falls its anybody's match until one exhausted grappler finally succumbs to a well executed piledriver that gets the winner a truly hard fought victory.

Lower Quality Sample to Preview the Action!


12 min. 370MBs WMV Format, 1280 x 720

---

$10 through Paypal




SlamMen 2: Joey Machete vs. Ryan O'Reilly Two of SLAMmen's largest are introduced by the referee in this back and forth one fall contest. After a collar and elbow tie up, Machete and O'Reilly use headscissors, waistlocks and reversals in the feeling out process in the early moments. After a series of back and forth punches and strikes, Machete drops an elbow on O'Reilly's left leg and weakens the leg with a modified figure four leglock in the middle of the ring.

O'Reilly delivers a hard slam to Machete into the turnbuckle. The brief momentum shift allows O'Reilly to use hard strikes and armwringers to work on Machete's left arm. However, the crafty Machete stops O'Reilly's momentum with one kick to O'Reilly's injured left leg. Machete's flurry continues until O'Reilly counters Machete with a kick to the stomach. O'Reilly briefly takes control with bearhugs, kicks, and punches and gets a two count on Machete.

After a double clothesline, one wrestler misses a huge corner splash. The result is a roll-up with a hold of the tights for the underhanded 1,2,3...but for whom?

Lower Quality Sample to Preview the Action!


10+ min. 320MBs WMV Format, 1280 x 720

---

$10 through Paypal




SlamMen 1: Chris Gray vs. Drew Myers Chris takes on Drew in a spirited battle of young cruiserweights.
Chris gets off to a fast start frustrating Drew with a clothesline and working on his left arm with an armbar. Drew counters with a kick to Chris' knee and goes to work with elbows and leglock wearing down the limb.

Once Chris reverses things he goes right back to work on the arm with a tight arm stretch and a big elbow off the ropes. Regaining the advantage Drew sends another kick into the youngster's knee then starts to work it over relentlessly. Locked in a crippling single leg boston crab Chris refuses to give in but Drew doesn't ease up, locking in a tendon-snapping figure four leglock. Can the green clad grappler find some way to escape and fight on or will the agonizing pain spell doom for the youngster??

Lower Quality Sample to Preview the Action!


9+ min. 293MBs WMV Format, 1280 x 720

---

$10 through Paypal


HTML Hit Counter


All Contents Copyright © 2010 Slammin Promotions. No unauthorized reposting, reproduction or reselling of content will be tolerated!